In the throbbing heart of premium gaming hardware production, GIGABYTE TECHNOLOGY Co. Ltd proudly unveils a masterpiece – the formidable AORUS RTX 4090 GAMING BOX. An external graphics behemoth, the GAMING BOX features the most cutting-edge NVIDIA Ada Lovelace architecture – the GeForce RTX 4090 graphics card, amalgamated with the high-speed Thunderbolt 3 transmission interface.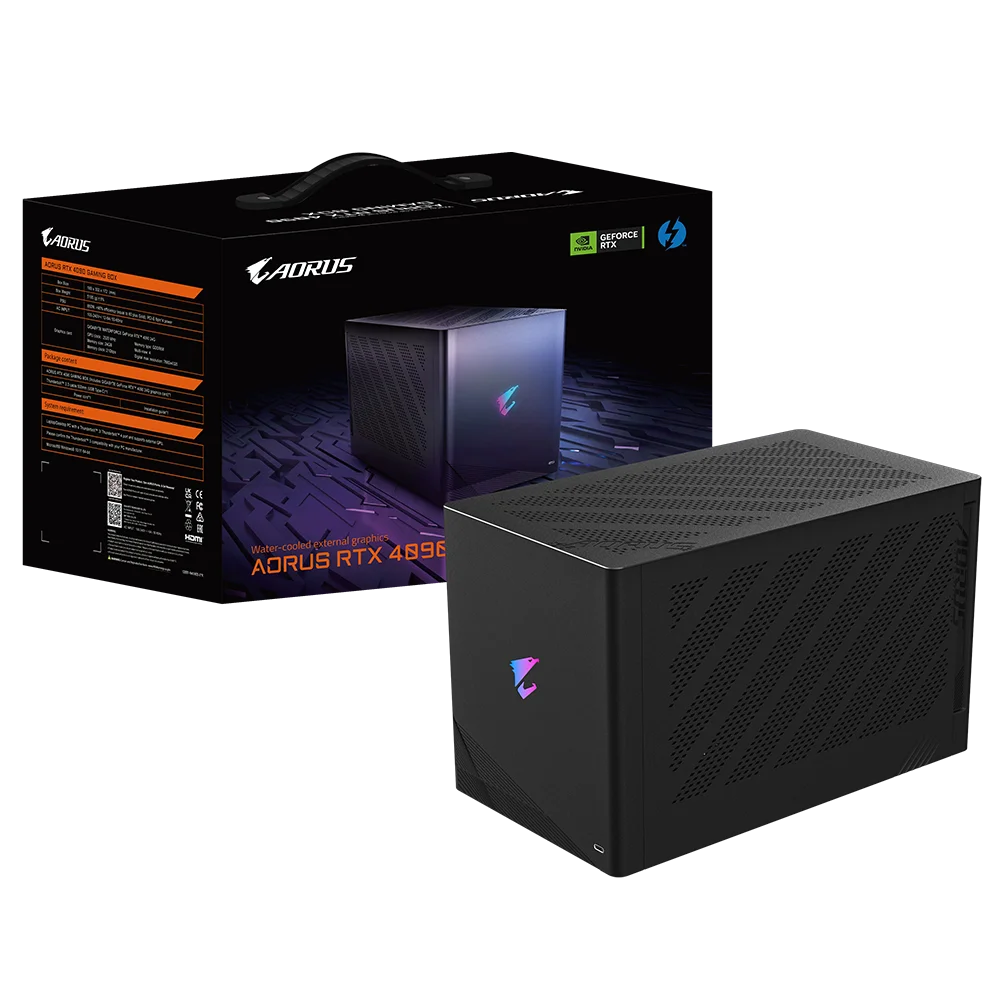 This top-of-the-range equipment metamorphoses ultrabooks into gaming powerhouses with staggering 3D computational performance. It's like rocket fuel for ultrabooks, breathing new life into their capabilities, bestowing upon them full ray tracing potential. Not just a treat for gamers, the GAMING BOX is a potent tool for creators, escalating their work efficiency to heights previously unexplored.
The AORUS WATERFORCE Cooling System seamlessly marries performance and comfort. This efficient solution ensures that users can engage in heavy workloads without compromising on a serene, comfortable environment.
The Aorus RTX 4090 Gaming Box is the crème de la crème of water-cooled external graphics boxes. It guarantees users the ultimate GeForce RTX 4090 performance, accompanied by a high-wattage, stable power supply. All this, in a space-efficient package – the GAMING BOX occupies a tiny footprint, establishing itself as the perfect fit for ultrabook users.
The cooling solution from AORUS covers all critical components of the graphics card – from the GPU to the VRAM and MOSFET, offering steady operation and increased lifespan. The WATERFORCE all-in-one cooling system boasts a large copper plate, a 240mm aluminum radiator, and a pair of 120mm fans. This system has an optimized pump and water block and promises optimal water flow and efficient cooling, at a pleasantly low noise level.
Incredible performance for Gamers
For gaming enthusiasts, the Gigabyte's AORUS RTX 4090 Gaming Box is a game-changer. Equipped with the powerful GeForce RTX 4090 graphics card, it transforms ultrabooks into high-end gaming platforms. From full ray tracing to ultra-high FPS gaming and minimal latency, the GAMING BOX pulls no punches. The latest DLSS 3 technology and new fourth-generation Tensor cores create additional high-quality frames, breathing life into AAA game masterpieces.
The GAMING BOX houses an integrated wired network chip, ensuring a smooth, uninterrupted gaming experience. With the GIGABYTE control center software, users can fine-tune performance and lighting effects to suit their preferences.
A dream come true for Creators
For creators, the AORUS RTX 4090 Gaming Box is a dream come true. Its unrivaled performance elevates creative projects to new heights. Its GeForce RTX 4090 hardware acceleration support and NVIDIA Studio driver assist with AI, saving time across a plethora of tasks, be it video editing, 3D animation, photography, graphic design, architectural visualization, or broadcasting.
Moreover, the GeForce RTX 4090 GPU comes loaded with a whopping 16,384 CUDA cores. This power-packed feature allows creators to experience desktop-level performance when using AI-based graphic software like Stable Diffusion, expediting the image generation process.
In essence, the AORUS RTX 4090 Gaming Box pushes the boundaries of 3D computing performance, allowing even ultrabook users to experience desktop-like capabilities. Paired with external displays, keyboards, drawing tablets, and wired networks, it becomes the ultimate companion for gamers and creators alike.